We are having a...
First thing first...
I am Tania from
My Second Sense
. This is my 9th year teaching second grade and I cannot tell you how much I love my amazing second graders! Kindergarten and First grade teachers are my heroes!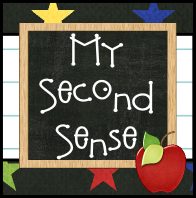 Read Aloud time is one of my favorite parts of the day. For the last nine years I have collected many books. Some are fantastic for shared reading, others for teaching 'something' and others, just for fun.
So let's look at where I hide them from all the little hands: Bottom drawer :)
I use two things to semi organize them: expandable folders and filling tabs.
I use each folder to divide my collection by topic...or something easy for me to remember what I am looking for.
These 5 sets contain Back to School books, Caldecott Awards, Some of my Favorites, Skippy JonJones and Patricia Polacco.
I have a drawer full of them. Since I cannot fit them all, I take home my extra sets. I rotate them through out the year.
Finally, this is how they look inside the bottom drawer. It is a bit easier to find what you need.
How do you organize your favorite books?
Thank you Carly for letting me share about my precious book collection.
Come and
visit
! I'd love to share with you!